Vocal Majority CDs, Digital Download Albums, and DVD
Most single-disc CDs and out-of-print CDs are available as digital downloads.
From time-to-time, CDs may temporarily be out of stock or out of print, as indicated below.
The Jim Clancy Collection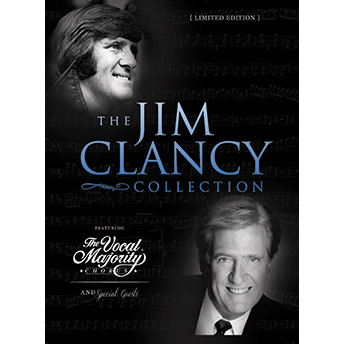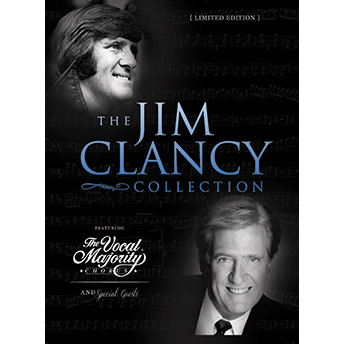 The Jim Clancy Collection
Jim Clancy Collector's Set 150 songs on 8 CDs ... many available for the first time in over a decade! ·Featuring The Vocal Majority® Chorus along with 13 guest artists, as they perform Jim Clancy's arrangements
Beautiful 24-page keepsake booklet with photos, notes and song lists. Only 2,000 will ever be produced - every box is numbered and hand signed by Jim Clancy.
Most songs are performed by The Vocal Majority® Chorus. Also featured are Special Guest Artists: Acoustix, The Ambassadors of Harmony, The Buzz, Dealer's Choice, The Gas House Gang, Ginger 'N Jazz, Interstate Rivals, Keepsake, Marquis, Masters of Harmony, Max Q, Panache and Realtime.
Scroll down for a complete song list
Complete Track List:
CD 1 – The Vault: I Step To The Rear | Delta Dawn | All His Children | Who's In The Strawberry Patch With Sally? | My Sweet Gypsy Rose | Gimme A Good Old Mammy Song | Intermission Song | With A Song In My Heart | Danny Boy | Texas Medley | An American Trilogy | Jimmy Webb Medley | Ol' Man River | You Keep Coming Back Like A Song | Sixteen Tons | How Deep Is The Ocean | I'll Be Seeing You | My Funny Valentine | In The Still Of The Night | Luck Be A Lady
CD 2 – The Vault II: Contest I'm On My Way | What Kind Of Fool Am I? | For Once In My Life | Aquarius | Pure Imagination | Put Your Head On My Shoulder | All The Way | Before The Parade Passes By | Red Head | Come Take Your Place In My Heart | Girl Of My Dreams | That Wonderful Mother Of Mine | You'll Never Know / My Buddy Medley | The Sweetheart Of Sigma Chi | You Don't Know Me | If I Give My Heart To You | Those Chords Will Still Be Ringing In My Heart | Georgia On My Mind | If I Ruled The World
CD 3 – Sacred: How Sweet The Sound (A Medley Of Hymns) | Sweet Hour Of Prayer | I Walked Today Where Jesus Walked | Hymns Of The Cross (A Medley Of Hymns) | It Is Well With My Soul | The Lost Chord | Jesus Loves Me (A Medley Of Hymns) | He / I Believe | The Lord's Prayer | The Holy City | God Be With You Till We Meet Again
CD 4 – Inspirational: Patriotic You Raise Me Up | You'll Never Walk Alone | Somewhere | When You Wish Upon A Star | One Voice | How Do You Keep The Music Playing? | Climb Ev'ry Mountain | Somewhere Medley | He Ain't Heavy…He's My Brother | The Star-Spangled Banner | My Country 'Tis Of Thee | God Bless America | George M. Cohan Medley | American Armed Forces Medley | Patriotic Medley | I Pledge Allegiance / God Bless The USA
CD 5 – Strings I: Can You Feel The Love Tonight | Chances Are | As Time Goes By | Moments To Remember | Nat King Cole Medley | I Only Have Eyes For You | Memory | I Don't Want To Walk Without You | Mack The Knife | When I Fall In Love | Antonio Carlos Jobim Medley | In The Arms Of Love | September Song | Moonglow | Smoke Gets In Your Eyes | Moonlight Serenade
CD 6 – Strings II: What A Wonderful World | My Special Angel | Long And Winding Road | California Dreamin' | You Are So Beautiful | At The Hop | Can't Help Falling In Love | Never My Love | In My Room | Can't Smile Without You | Can't Take My Eyes Off Of You | Unchained Melody | Raindrops Keep Falling On My Head | No Arms Can Ever Hold You | There's A Kind Of Hush | Turn Around, Look At Me | Bridge Over Troubled Water
CD 7 – Happy Holidays: We Need A Little Christmas | Let It Snow | Secret Of Christmas | White Christmas | Christmas Time Is Here | Rudolph The Red-nosed Reindeer | Blue Christmas | That's What I Want For Christmas | Have Yourself A Merry Little Christmas | Winter Wonderland | My Grown-up Christmas List | Auld Lang Syne
CD 8 – Christmas Eve: The Songs Of Christmas Medley | O Come All Ye Faithful | Do You Hear What I Hear? | Sweet Little Jesus Boy | Birthday Of A King | Coventry Carol / Away In A Manger | Believe | Mary's Boy Child | It Came Upon A Midnight Clear / Silent Night | O Come, O Come Emmanuel | Hallelujah | O Holy Night
Images of all CD booklet pages, package, and disc art
Package Front Cover: Jim Clancy Collection
Package Back Cover: Jim Clancy Collection
Package Inside Front Cover: Jim Clancy Collection
Booklet Front Cover: Jim Clancy Collection
Booklet Page 2: Jim Clancy Collection
Booklet Page 3: Jim Clancy Collection
Booklet Page 4: Jim Clancy Collection
Booklet Page 5: Jim Clancy Collection
Booklet Page 6: Jim Clancy Collection
Booklet Page 7: Jim Clancy Collection
Booklet Page 8: Jim Clancy Collection
Booklet Page 9: Jim Clancy Collection
Booklet Page 10: Jim Clancy Collection
Booklet Page 11: Jim Clancy Collection
Booklet Page 12: Jim Clancy Collection
Booklet Page 13: Jim Clancy Collection
Booklet Page 14: Jim Clancy Collection
Booklet Page 15: Jim Clancy Collection
Booklet Page 16: Jim Clancy Collection
Booklet Page 17: Jim Clancy Collection
Booklet Page 18: Jim Clancy Collection
Booklet Page 19: Jim Clancy Collection
Booklet Page 20: Jim Clancy Collection
Booklet Page 21: Jim Clancy Collection
Booklet Page 22: Jim Clancy Collection
Booklet Page 23: Jim Clancy Collection
Booklet Back Cover: Jim Clancy Collection
Disc Art CD 1: Jim Clancy Collection
Disc Art CD 2: Jim Clancy Collection
Disc Art CD 3 Jim Clancy Collection
Disc Art CD 4: Jim Clancy Collection
Disc Art CD 5: Jim Clancy Collection
Disc Art CD 6: Jim Clancy Collection
Disc Art CD 7: Jim Clancy Collection
Disc Art CD 8: Jim Clancy Collection